Visitor Info ?>
Visitor Info
Welcome!
We are a unique bird banding station in which we are always open to visitors to come and observe us capturing and banding birds. We also offer people of all ages the opportunity to have the experience of having a bird placed on their hand and fly off. Sometimes, if the person is lucky, the bird will stay for a few seconds.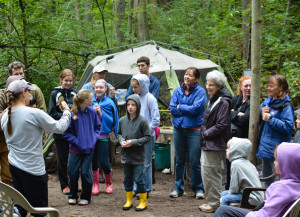 The reason we are able to do this is because we have a skilled, paid, and permitted crew that runs the station. Without their expertise and utmost care for the birds we could not offer such an opportunity. Furthermore, their knowledge about bird biology is extensive and they love sharing it with our enthusiastic visitors.
Here are some common questions we get when visiting the site:
Where are you located? We are located in Bath, Michigan which is just to the northeast of Lansing, MI. The parking area of our station is located at the following coordinates: 42.81356,-84.384817, which is on the north side of Clark Rd, almost exactly 1 mile east from the Clark Rd/Upton Rd intersection. Once you arrive you can follow the signs to the station. Please note the signs are only up when we are open. If you do not see signs then the site is closed! This is usually due to rain, as it is unsafe to catch birds in the rain.
When are you open? Please check our online BULA Calendar for the days and times that we are open. It is updated frequently with changes associated with weather.
Do we have to arrive at a certain time? Visitors are welcome to come and go at any time between the hours posted on the calendar. However, we highly recommend coming earlier in the morning as it is when most of the birds are captured.
What can we expect when we arrive? When you arrive to the parking area you will follow the arrows on the BULA signs to the banding tent, which is roughly a 2-5 minute walk. You will see our tent in a clearing and likely people in the area. If you do not see people, don't fret! That means everyone went on a net run to collect the birds. PLEASE, stay at the tent until we are back. Once you meet our friendly faces we will be happy to answer any questions regarding the bird banding process, and do our best to answer any other questions you may have.
Can we help take birds out of the nets? Unfortunately, we cannot have people that visit the station help us with extracting birds from nets, even if they already have experience. All of the staff and regular, dedicated interns are listed under the Director's master's permit. We cannot risk the safety of the birds by letting many different people try to take them out. However, if you are interested in being a dedicated volunteer please talk with the Site Coordinator, Site Director, or Bander about opportunities. We do offer one-on-one training for dedicated individuals.
Should we bring anything with us? Particular clothing? Early in the season please be prepared for mosquitoes and hot weather. We have a water cooler but you will need a water bottle or cup. The crew always appreciates treats – savory or sweet! Long pants and sleeve shirts can be hot, but are good for the many mosquitoes. We suggest wearing "net friendly" clothing, this simply means clothes without buttons down the middle, or many zippers. We also ask that if you have a backpack to please leave it in the banding tent. These often get caught in our nets and cause rips and holes. If you must carry something when going on a net run with us, please inform the crew member you are going with.
Is there a bathroom at the site? Yes!!! We know have a nice portable toilet that is maintained weekly. It is located in the parking area and is only open when the station is open. It also provides another opportunity to learn more about migratory birds!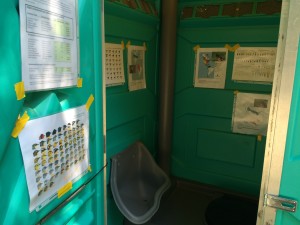 Do you take groups? How big? Yes, we welcome large groups and in the past have accommodated up to 30 people in one day. We only ask that you contact us (email or facebook) ahead of time to further discuss how many people, any disabilities, potential parking issues, and other information that helps us better accommodate a larger group.