Outreach & Education ?>
Outreach & Education
Part of our mission is to engage with the local community to provide opportunities to connect with nature through hands-on experiences. This creates enthusiasm and appreciation for our natural resources and fosters an intrinsic value of wildlife.

Visiting Burke Lake: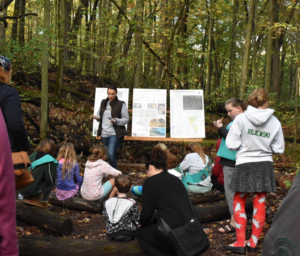 Our biggest outreach happens at the Burke Lake Banding Station and we highly encourage schools, clubs, and other organizations to arrange for visits to the station during our field season. Here, visitors can observe scientific research and field biologists in action, as well as gain hands- on experience with the incredible diversity of birds we capture.
Burke Lake also conducts outreach events at local schools:
If you would like us to visit your school, please contact us at burkelakebanding@gmail.com.
Additional outreach events include:
Michigan State University Science Festival
Michigan State University Autumn Fest
Fenner Nature Center Earth Day Extravaganza
MSU Fisheries and Wildlife Techniques
MSU Ornithology
Capital Area Audubon Society International Migratory Bird Day
4-H Great Lakes and Natural Resources Camp
Wild Native Plants Society
Earth Day Extravaganza
Assisted Living Homes
Please check us out on Facebook to see pictures from all our outreach events!