Rachana Rajendra Bird Sanctuary ?>
Rachana Rajendra Bird Sanctuary
Rachana Rajendra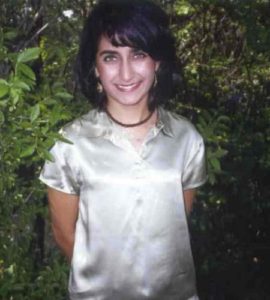 June 10, 1969 – January 6, 1997
Rachana Rajendra was an Okemos resident and lover of nature, especially birds. When a tragic automobile accident took her life, her parents started an endowment to help people and birds. The funds were used to establish and maintain the Rachana Rajendra Neotropical Migrant Bird Sanctuary, located in Baker Woodlot. Additionally, each year two students interested in avian research are awarded a $2,000 scholarship to conduct surveys in Baker Woodlot.
The Rajendra Fellowship funds two positions at the Burke Lake Banding Station (BULA) during our spring season. Rajendra Fellows conduct weekly area search surveys in Baker Woodlot to better understand how birds use the sanctuary. The most experienced fellow trains undergraduates in survey techniques, and audio and visual detections are entered into eBird.
The sanctuary is an urban refuge for people and birds. This small, but largely undisturbed deciduous forest provides the community with a special place to recreate, conduct research, and observe nature along winding paths in a quiet wood. Rajendra Fellows value connection; Burke Lake Banding Station, Michigan State University, and the Rachana Rajendra Neotropical Migrant Bird Sanctuary are not only connected by staff, students, and community members, but especially by the birds of mid-Michigan.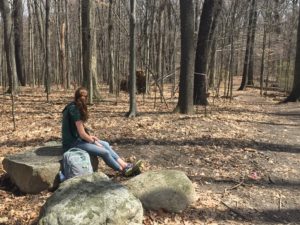 The sanctuary is a living memorial for a woman who had passion for birds, just like we do. We look forward to discovering new connections between BULA and the Rachana Rajendra Migrant Bird Sanctuary by continuing to promote avian research, training of current and future wildlife professionals, and the education of people of all ages.